The Lofoten archipelago is known for its beautiful landscape with majestic mountains and picturesque fjords. You'll also find loads of coves, beaches, plenty of fishing villages large and areas of unspoilt nature. A summer in Lofoten gives you the opportunity to surf, swim, fish – or just go on an adventure exploring the beautiful scenery this archipelago has to offer.

Explore Lofoten – From the Sea
Lofoten is one of the most beautiful places in Norway and the fjords and the mountains plays a huge part in that. If you are travelling to the north of Norway during summer time, a great way of seeing Lofoten is from the open sea. One way to do this is to take a day cruise from Svolvær with the BRIM Explorer. With its electric engine this vessel lets you travel in silence causing minimal disruption of the nearby wildlife. All you'll hear is the ocean hitting the ship as you cruise along Trollfjorden. On our trips we launch an underwater drone and microphone to explore the mysterious depths of the fjord and bring you closer to the wildlife below the surface.
Catch your own dinner!
Lofoten consists of loads of small fishing villages and there's plenty of opportunities for adventurers seeking to catch their own meal. You could for example embark on a fast RIB boat and catch brown crab. With the help of an experienced guide you can collect and empty the crab pots. Maybe you'll even spot a Norwegian sea eagle or some arctic dolphins on your trip. After, you'll return to the fishing village just like the traditionally fishermen used to do back in the day. Back you will be served a fresh crab soup made from the catch of the day in Brygga Restaurant.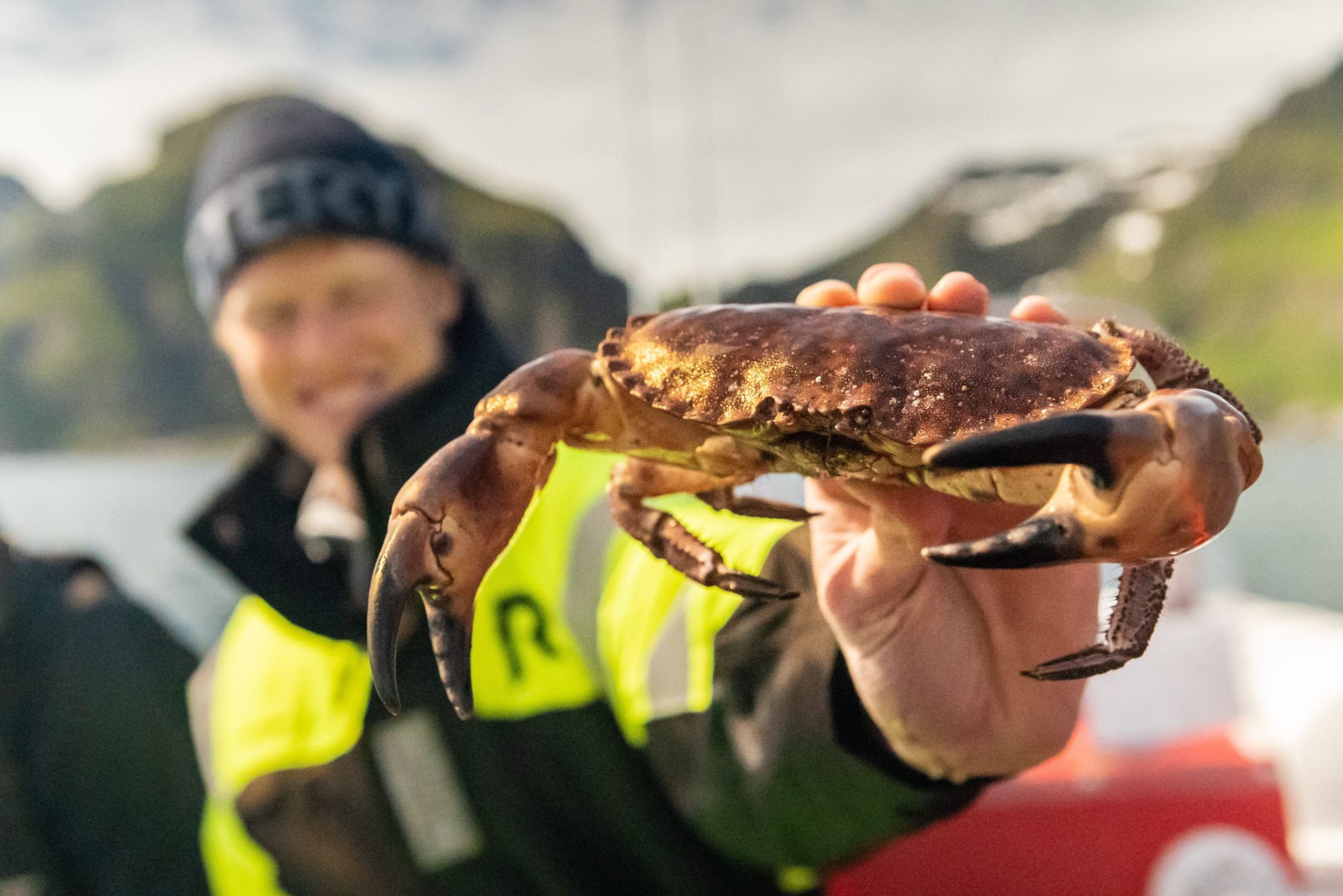 Surf's up
The combination of Northern Norwegian nature and an active surfing environment makes Unstad in Lofoten a very unique place. Here, surfing enthusiasts have for the past half century fallen in love with the waves, the beach, and the surrounding mountains. Today, Unstad is considered to be the world's northernmost surfing destination. What once was a remote coastal settlement has now been transformed into a surfing paradise – and still far from the beaten track.
Every year Unstad attracts both world famous and beginning surfers from all over the world. Thundering waves roll in from the rough, open ocean and entice surfers into the water at all hours of the day and night. There are varying degrees of difficulty that fit most skill levels. People with a mutual passion for pumping adrenaline and the wild forces of nature come together here at Unstad.
They all chase the unique experience of mastering the waves in surroundings you won't find anywhere else on the planet. The eight-degree water continuously makes your body really feel alive.